If you want to surprise your family or your guests with a really hearty and original dessert, you will be interested in today's recipe. Yes, because we are going to teach you how to prepare Sierra del Oso pomace cream flan with Thermomix.
This is an updated version of the traditional flan whose most significant ingredient is Sierra del Oso pomace cream, which is native to Cantabria. Specifically, from the Liébana area. This recipe contains liquid caramel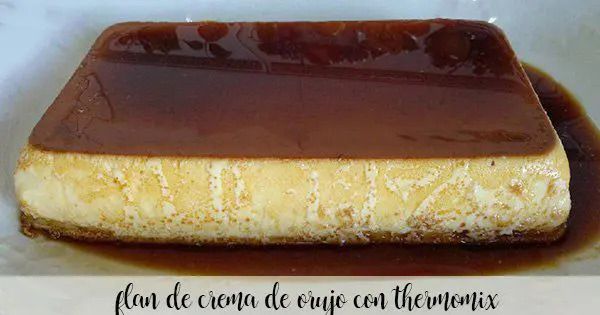 Sierra del Oso" Cream of Pomace Flan with Thermomix
Prep Time
1 hour, 40 minutes
Total Time
1 hour, 40 minutes
Ingredients
120 grams of Sierra del Oso pomace cream
100 grams of liquid caramel
380 grams of condensed milk
7 medium eggs
1 litre of water
345 grams of evaporated milk
Instructions
Once you have gathered all these ingredients, follow the steps below:
Add the pomace cream, evaporated milk, eggs and condensed milk to the mixing bowl of the food processor. Program at speed 10 / 3 minutes.
Pour a little liquid caramel into some flan dishes and then pour the contents of the mixing bowl into them. Cover the flan dishes with aluminium foil and place them in the Varoma, which is in the Thermomix.
Clean the mixing bowl and add the water. Program at speed 2 / Varoma temperature / 15 minutes.
Leave the flan trays to cool and then put them in the fridge.
They should be in the fridge for at least an hour and a half before unmoulding and serving.
And that's the end of our Sierra del Oso cream flan with Thermomix. See you next time