If you want to prepare a dessert to surprise your family, you can use your food processor to do so. In particular, you have many recipes in this sense, but one of the most exquisite is the cider cheesecake with cider with Thermomix. This recipe uses flour
It is an original version of the traditional proposal that everyone at home is sure to love.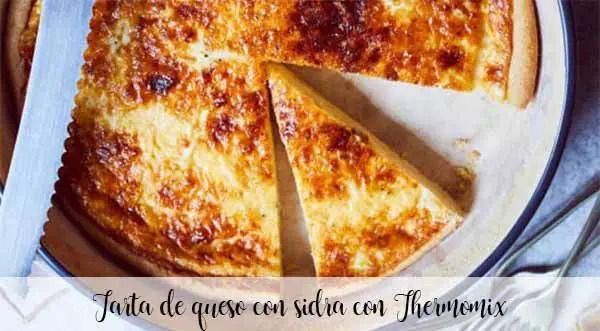 Cider cheesecake with Thermomix
Prep Time
1 hour, 26 minutes
Total Time
1 hour, 26 minutes
Ingredients
310 grams of cheese in chunks, a good option is half gruyere and half emmental cheese
240 grams of wheat flour
150 grams of cider
1 teaspoon baking powder
3 eggs
Pinch of sugar
1 teaspoon salt
82 grams of water
152 grams of milk
A pinch of ground pepper and nutmeg
82 grams of olive oil
Instructions
Once you have gathered these ingredients, follow the steps below:
Add the yeast, salt, oil, water, sugar and flour to the mixing bowl of the food processor. Program on speed 4 / 20 seconds.
Pour the resulting dough onto a smooth surface and roll it out with a rolling pin.
Shape it into a circle with a diameter of about 30 centimetres.
Take a round baking dish, sprinkle a little flour over it and line it with the dough, including the sides.
Prick it with a fork when it is ready. Wash the mixing bowl and add the cheeses. Program on speed 6 / 8 seconds. Pour the cider into the glass and run the food processor on speed 4 / 3 seconds.
Pour the contents of the glass into the bowl and spread them well over the bowl.
Pour the eggs, a little salt, milk, nutmeg and pepper into the glass. Program on speed 5 / 10 seconds.
Pour the contents of the glass into the dish. Place the baking dish in the preheated oven and bake for 37 minutes at 200º.
And that's the end of our cider cheesecake with Thermomix. See you next time!