Today we bring you a delicious dessert for chocolate and fried milk lovers, as today we combine the two ingredients to make Chocolate fried milk with thermomix. A peculiar recipe that corresponds to a delicious dessert. Here is how to prepare it.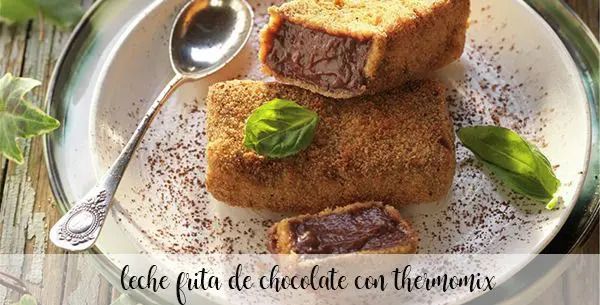 Chocolate fried milk with thermomix
Ingredients
1 litre of whole milk (at room temperature)
30 grams of pure cocoa powder
300 grams of sugar
100 grams of cornstarch
1 pinch of salt
4 egg yolks
100 grams of baking flour
2 beaten eggs
300 grams sunflower oil
1 teaspoon ground cinnamon
Instructions
Pour the litre of milk into the Thermomix mixing bowl and program. 7 minutes / Temperature 100° / Speed 1.
Once the milk has boiled, remove from the glass and set aside.
Then, back in the Thermomix mixing bowl, add 200 grams of sugar together with the cornflour, cocoa, salt and egg yolks and program. 10 seconds / Speed 5.
To continue, add the previously reserved milk and program. 10 seconds / Speed 7.
Once all the ingredients are well blended, immediately program. 6 minutes / Temperature 100° / Speed 4.
While the ingredients are cooking, moisten the inside of a rectangular mould (measuring 30 x 20 x 6 cm) with water and line it with cling film.
Pour the mixture into the mould, allow to cool and then refrigerate for 4 hours or until the mixture is well set.
When the mixture is cool, cut into portions (this quantity is enough for about 24 portions).
Dip each portion in flour, then in beaten egg, so that they are well coated.
Then, in a pan with plenty of very hot oil, place the portions to fry.
Watch until golden brown on all sides.
Then place them on a tray on absorbent kitchen paper.
Finally, in a bowl or deep plate, mix sugar and cinnamon and dip the fried milk into the sugar and cinnamon mixture, leave to cool.
Serve, enjoy and bon appetit. I look forward to your comments. See you next time!