A dessert worthy of a magnificent dinner, one of those desserts that as you put it on the table will fly, delicious orange truffles with thermomix.
It is very simple to make but you will have to make part of the dessert the day before, because it needs the first step a little fridge … so … by the way we also have the lemon truffles if you like them more and are made the same way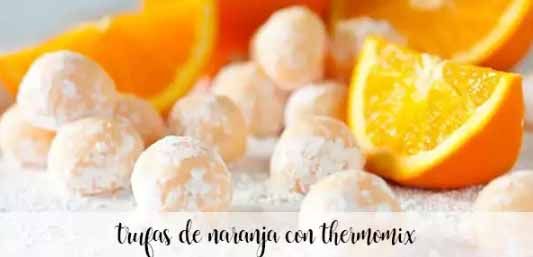 Orange truffles with thermomix
Ingredients
2 tablespoons grated orange peel
50 ml cream
15 grams of natural orange juice
50 grams butter
180 grams of white chocolate in pieces
A pinch of yellow coloring
A pinch of red coloring
20 grams of powdered sugar
Instructions
The day before:
To start our recipe we put the cream and the grated orange peel in a bowl, mix it, put cling film over it and let it rest in the fridge for 12 hours.
After 12 hours we start the recipe, we take out the saved cream and strain it and put it in our thermomix glass and program 2 minutes / 90ºC / speed 1.
Add the white chocolate cut into pieces, the butter in pieces and not hard and the red and yellow coloring and mix everything 45 seconds / speed 3.
Remove the mixture to a bowl, put plastic wrap on top and put between 3 and 5 hours in the refrigerator on a tray lined with baking paper, put the mixture and we are giving them rounded truffle shape, then coat them with icing sugar and our orange truffles will be ready.
Store in the refrigerator until ready to eat.
Nutrition Facts
Orange truffles with thermomix
Serves: 4
Amount Per Serving:
Calories

399.68 kcal

% Daily Value*
Total Fat

29.25 g

45%
Saturated Fat

18.06 g

90.3%
Trans Fat

0.41 g

Cholesterol

53.58 mg

17.9%
Sodium

46.9 mg

2%
Total Carbohydrate

33.15 g

11.1%
Dietary Fiber

0.42 g

1.7%
Sugars

32.11 g

Protein

3.08 g
Vitamin A

15.81 %

Vitamin C

6.95 %

Calcium

10.6 %

Iron

0.83 %
* Percent Daily Values are based on a 2,000 calorie diet. Your daily values may be higher or lower depending on your calorie needs.