Here we show you a version of one of the most popular cakes. This time we will show you how to prepare Apple with port and cream and crunchy with thermomix.
This tasty dessert is ideal to serve as a snack or after a delicious celebratory dinner. It is very easy and quick to prepare. This recipe uses apple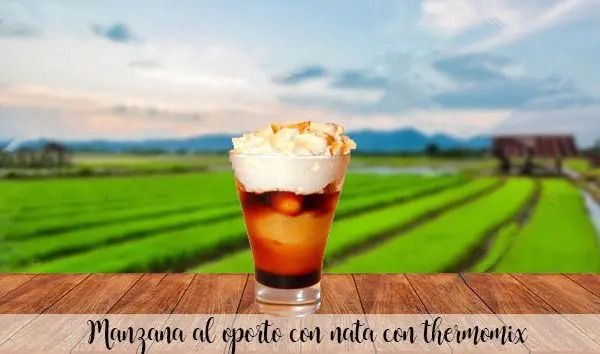 Apple with port and cream with thermomix
Ingredients
For the Crocante
150 grams of walnuts
250 grams of brown sugar
70 grams of water
30 grams of butter
1 teaspoon lemon juice
For the Port Apple Filling
6 Golden apples, skinned and cored, cut into quarters
100 grams port wine
3 strips of lemon peel
150 grams sugar
150 grams of water
1 cinnamon stick
For the cream topping
400 grams of cold cream min. 35% G.M.
2 tablespoons sugar
Instructions
To begin the preparation of this delicious recipe of Apple with port and cream and crunchy topping with thermomix, you must prepare the crunchy topping.
This is done by adding the sugar, butter and water to a hot pan, stirring and allowing it to caramelise. Once the sugar has caramelised, pour in the walnuts and mix very well.
Immediately pour the caramelised walnuts onto a baking sheet lined with non-stick baking paper. Spread well over the whole baking tray. Leave to cool until it hardens.
To continue, add the water, sugar and cinnamon stick to the thermomix mixing bowl and program. 5 minutes / Varoma temperature / Reverse rotation / Speed 1.
Then add the port wine, the strips of lemon peel and the apples, programme. 20 minutes / Varoma temperature / Reverse rotation / Speed 1.
At the end of the cooking time, remove the mixture from the thermomix mixing bowl and set aside for a few minutes.
On the other hand, in the clean, dry and preferably cold thermomix mixing bowl, pour the cold cream and the sugar, program. 5 minutes / Speed 3.
The time to whip the cream will depend on the amount of fat in the cream and the temperature, so the time is simply a reference, it may take a little less time to whip.
You should keep an eye on the mixture from time to time to prevent it from spoiling.
Finally, and again with the thermomix mixing bowl clean and dry, pour in pieces of crunchy walnut crumbs, and with a few strokes of the turbo, crush them, but not too much so that they do not turn to dust.
Now pour the apple port mixture into individual glasses or dessert cups, then top with the whipped cream and finally sprinkle with the desired amount of crunchy crunch.
Serve, enjoy and bon appetit. I look forward to your comments. See you next time!