This recipe has been sent by our friend Luz Maria Lagoa Vives. If you are passionate about exquisite desserts and love the combination of luxurious flavors, you are about to embark on an unforgettable culinary journey.
In this article, I will take you by the hand through a recipe that unites the magic of Thermomix with the elegance of white truffle: White Truffle Cupcakes with Thermomix.
Every bite of these small delicacies will take you to a heavenly and sophisticated world of flavors that will delight your senses in every bite. Get ready to discover perfection in the form of a cupcake!
Truffle Cupcakes banca with thermomix
Kitchen
Spanish cuisine
Category:

desserts with thermomix

Ingredients of Truffle Cupcakes banca with thermomix
INGREDIENTS MASS
150 grams flour
150 grams of sugar
60 grams butter (T.A)
120 ml milk +1 tablespoon lemon juice (buttermilk)
1 egg (L)
8 grams of cocoa powder
1 tablespoon and a half vanilla essence
Half a teaspoon of baking soda
1 teaspoon white vinegar
1 tablespoon red food coloring
INGREDIENTS WHITE TRUFFLE
250ml whipping cream
150 grams white chocolate (to melt)
Preparation of Truffle Cupcakes banca with thermomix
We started by making the White truffle, because it needs a minimum of 8 hours in the fridge to be able to assemble it
In a bowl chop the chocolate, heat the cream without boiling, pour it over the chocolate, stir until the chocolate completely melts. We cover with film to skin (in contact with the cream), when it cools, we put it in refrigerator
ELABORATION MASS
We make a buttermilk with milk and lemon juice. Stir and let rest (this will add more juiciness to the dough)
We turn on the oven to 170°, heat up and down
In the glass of the thermomix, put the flour and cocoa, we are going to proceed to sieve

10 seconds / speed 8

Check out and book
We rinse and dry the glass. We put the butterfly on blades, we introduce the butter and sugar, we acremamos

5 minutes / speed 3

lower the remaining ingredients to the bottom of the glass, add the egg

30 seconds / speed 3

we incorporate the essence and coloring

30 seconds / speed 3

we are interspersing the dry ones (flour and cocoa), with the buttermilk by the vowel

while beating at speed 3

when we have finished, put the baking soda in a glass and add the vinegar, when they form bubbles we add it by the vowel,

while beating at speed 3

Fill the muffin capsules 3/4 full, bake for about 18 min.
Take out and let cool on a wire rack
FINAL ELABORATION
We take the cream with chocolate out of the fridge. We put the butterfly on blades, introduce it and

we rode at speed 3'5

We put it in a pastry bag
Our cupcakes will have cooled down, we decorate them with the truffle, making a rosette or spiral at its base.
Notes
I have made truffle, because at home, especially my son, he does not like the taste of cheese or butter
ALL THAT'S LEFT IS TO ENJOY, BON APPETIT
recipe by Luz Maria Lagoa Vives
Recipe by Jesus
You may also be interested in them…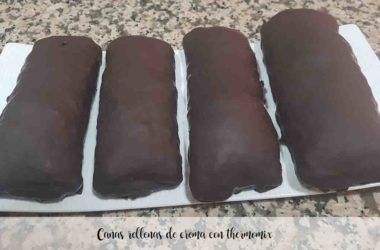 Canes filled with cream with thermomix
Today we bring another recipe from our friend Luz Maria Lagoa Vives. Today I'm sharing with you a recipe of stuffed canes of…
Read More…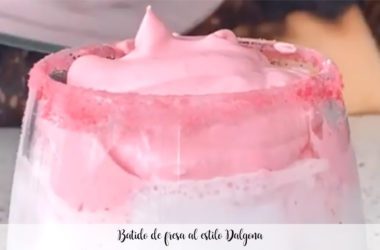 Strawberry milkshake in Dalgona style
A while ago the coffee of dalgona became tremendously fashionable due to the foam that we could get with…
Read More…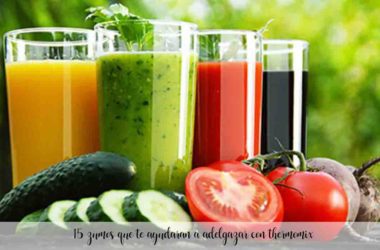 15 juices that will help you lose weight with thermomix
Today we bring you a collection of juices considered DETOX, which will help both to lose weight and to cleanse your body, have breakfast…
Read More…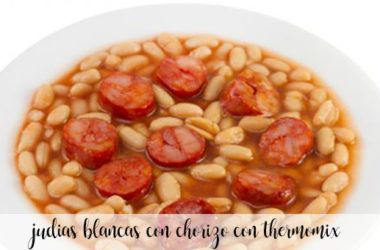 White beans with chorizo with thermomix
White beans with chorizo with thermomix A good stew of beans never goes wrong, and if this we add some…
Read More…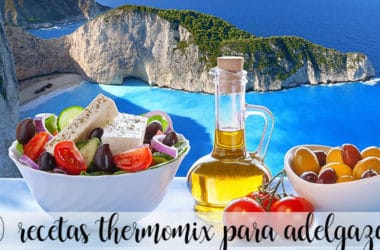 40 thermomix recipes for weight loss
Our kitchen robot does everything, we almost always take the photos of wonderful cakes, dreamy desserts or meats…
Read More…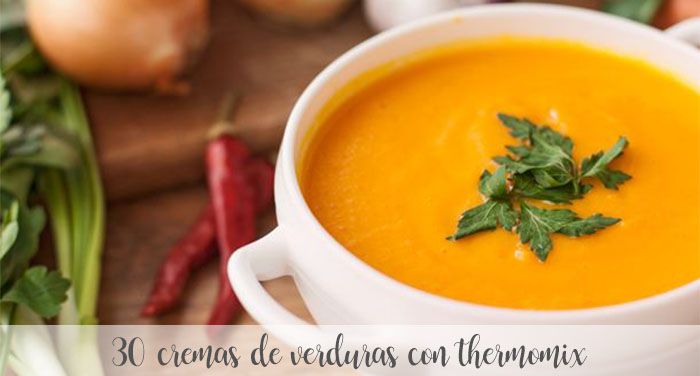 30 vegetable creams with Thermomix
Nothing better for cold days than a good vegetable cream to warm up the body, and a magnificent one…
Read More…

facebook group
Join our Facebook group
New recipes comments with thousands of users

NOTE: INTERESTING RECIPES FOR THIS NEW YEAR… I'm sure you are also interested in these recipes
Whipping cream with thermomix step by step

Chocolate cake and cookie, grandma's cake with thermomix

Crumbs with chorizo and bacon with thermomix

30 vegetable creams with Thermomix

Chicken curry with Thermomix

How to chop meat with the Thermomix – Trick

25 lasagna recipes with thermomix

bechamel with Thermomix

15 Ice Creams with Thermomix

aioli sauce with the Thermomix

Watermelon gazpacho with the Thermomix

Lemon mousse with the Thermomix

300 recipes for Keto diet with thermomix

Turron curd with thermomix

Cristina Pedroche's cheesecake with thermomix

Fried nougat milk with Thermomix
[anuncio_b30 id=10]