Avocado and lemon cheesecake in the thermomix
A delicious creamy cake that will surely surprise you, because of the unusual use of one of its ingredients to make cakes, avocado is a fruit that has become very fashionable in recent years. Whether it's toast at breakfast, as an appetizer with shrimp salad, as a side dish in typical Latin American dishes or in a delicious guacamole, the avocado never ceases to amaze us for its versatility and flavor.
As if that were not enough, it is a very nutritious food, rich in good fats and vitamins. If you think you already know all the possible recipes with this ingredient, you may be surprised to know that with it you can prepare delicious desserts. That's why today we present a very easy cheesecake recipe without an oven with avocado and lemon.
The result is incredible!
Ingredients for avocado and lemon cheesecake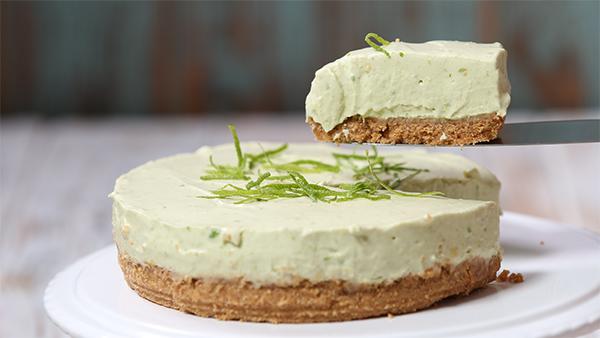 For cookies:
1 package of marie cookies
100 g of butter
1 cup of sugar
1 packet of grenetine (about 4 tbsp)
ground cinnamon
For the Cheesecake:
400 g of condensed milk
1 packet of curd (We can replace it with 14 g of gelatin or 5 sheets of gelatine previously hydrated)
200 g of cream cheese type Philadelphia or Filandia
150 g of evaporated milk
350 g of avocado pulp
30 g of lemon juice
1 tablespoon ground cinnamon

Avocado and lemon cheesecake step by step

Let's start with the cheesecake base.
We started preparing the cookie base. We put the chopped cookies in the glass and crush
10 seconds / Speed ​​7.
We add the butter and the ground sugar and the ground cinnamon we mix
10 seconds / Speed ​​5.
Mix very well so that the cookie is wet. Place the mixture in the base of your cake mold and flatten with the help of a spoon. Reserve in the fridge.
We look for a removable mold and we cover it with a paper of cooking. We place the base of our cracked crust regularly in the base, we press doing that it is tight and compact. We booked in the fridge.
For the cheesecake.
We put in the glass of our thermomix evaporated milk together, the curd or grenetina (if we use sheets of gelatine we will let them hydrate and we will incorporate them at the end of this first step).
3 minutes / Temperature 90º / Speed ​​2,5.
Add the rest of the ingredients: avocados, cheese, condensed milk, the tablespoon ground cinnamon and lemon juice.
We mix everything by programming
30 seconds / Speed ​​5.

While mixing, pour the evaporated milk through the mouth.
Finally, pour the preparation on the base of the cake using a spatula or spoon to avoid damaging the base. We tap on the table to avoid air bubbles and we look smooth on top. We let set in the refrigerator at least 6 hours.
After that time we unmold. We will use a knife or a spatula moistened with a little water and we will slide along the edges to favor the demolding. We finished unmolding and decorate with a few slices of avocado and some red fruits.
video